Paper Stock, Paper Sizes & Artwork information
ISO A paper sizes

Millimeters

Inches

Points

 

Width

Height

Width

Height

Width

Height

A0

841

1189

33.11

46.81

2384

3370

A1

594

841

23.39

33.11

1684

2384

A2

420

594

16.54

23.39

1190

1684

A3

297

420

11.69

16.54

842

1190

A4

210

297

8.27

11.69

595

842

A5

148

210

5.83

8.27

420

595

A6

105

148

4.13

5.83

298

420

A7

74

105

2.91

4.13

210

298

A8

52

74

2.05

2.91

148

210
Common Business card size 85x55mm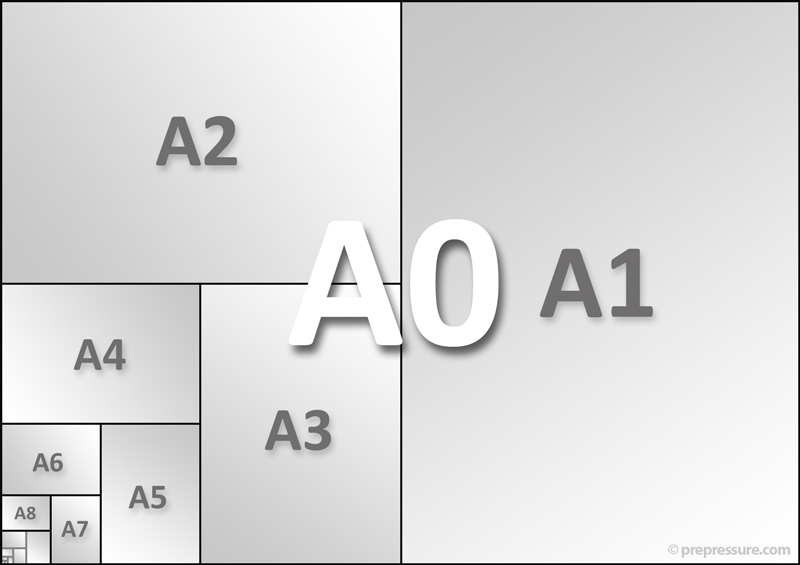 Light paper weights
80 – 100gsm: This is the general weight of standard office paper and would rarely be used in brochures.
110 – 120gsm: This weight is usually used with stationary paper for things such as letterheads and compliment slips.
130 – 170gsm: Heavier, more durable paper usually used forposters, leaflets, flyers and pages inside your brochure.
Medium Paper Weights
170 – 200gsm: This is the midway point between paper and card. It can be used for brochure covers and is great when used for more luxurious posters or quality double sided flyers.
200 – 250gsm: This paper weight is the starting point of heavier card (board) and can add a quality finish to a brochure if used as a cover. 
Read our blog about print finishing options
Thick paper weights
300 – 400gsm: Anything over 300gsm falls into the board category and this is usually the weight at which business card's start. Board can be used as a cover for brochures but it's important to remember the stitching and folding implications of using a heavy board as a cover.
400gsm and above: Some luxury business cards are printed on weights up to 1200gsm. Business cards would be considered thick and very good quality at above 400gsm.
Matt / Gloss Lamination
In the printing industry, lamination refers to the process of bonding a clear plastic film onto printed matter to make it stronger and more durable. In most cases, the bonding is applied to both sides of the printed piece so that it is totally enclosed in the plastic film. This protects the piece from stains, tears, moisture and other hazards that can damage or ruin it altogether. Lamination adds strength and rigidity to a printed piece and also makes the colors stand out more.
UV Coating
The "UV" in UV Coating stands for ultra violet. Which is a liquid coating that is applied to a printed sheet then cured under an ultra violet light. The bright  light makes the coating give off a glossier finish. UV Coating creates the desired smooth texture and look on paper products.
Confused with all the print jargon?
Give a ring or drop us a email to discus……